Our work brings expected results
1. Meeting
Meet with us for coffee! We will be happy to hear your ideas about the project.
2. Analysis
We will suggest a suitable way of realization and deadline for every project.
3. Implementation
The prepared project wakes up to life exactly as planned.
4. Testing
At the final stage of the project, we will jointly test the project with you before release it to public.
5. Your success
The finished project brings results as expected. Be prepared.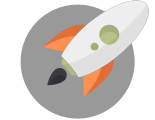 We are here for you!
How can we help ?